Been there, done that. But hopefully, the third time is a charm in terms of my Manny Pacquiao vs.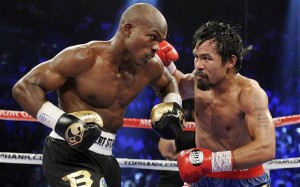 Timothy Bradley fight prediction.
For Pacquiao-Bradley I, I incorrectly predicted that Pacquiao would not only defeat Bradley, but that he would score a late technical knockout. I couldn't have been more wrong, as not only did Bradley go the distance, but he actually "won" the fight! I say "won" because we all know that most boxing pundits, myself included, felt that Pac Man did more than enough to defeat Bradley in their first brawl.
Before their rematch, I incorrectly predicted that Bradley would prove that his "win" in their first bout was no fluke, and that he would out-busy and outwork the aging Pacquiao. Although I was wrong and Manny fought well enough to avenge his earlier "loss," Bradley actually performed better in defeat than he had in his previous "win" against Pacquiao.
So where does all of this leave us as the Manny Pacquiao vs. Timothy Bradley rubber match fast approaches?
Decisions, decions.
Well, there will be a decision. The question is: who will win it?
It's a tough call. Both boxers have seen better days.
Manny Pacquiao is 2-1 in his last three fights while Timothy Bradley is 2-1 in his last three bouts. Although their recent records are the same, there are stark differences.
Pacquiao defeated Bradley during that 3-fight period, and his only loss was to the now-retired, former pound-for-pound king Floyd Mayweather. Bradley's only loss was to the aforementioned Pac Man, but he did stop Brandon Rios over the same period of time (something that Pacquiao was unable to do when he and Rios fought in 2013).
What does this all mean when Pacquiao and Bradley duke it out on April 9?

Nothing!

When all else fails, go with the better boxer. And that boxer will be Manny Pacquiao by unanimous decision.